What is changing? What do I need to do?
Microsoft announced a few months ago that they are changing the way organizations will transact and subscribe to its cloud solutions. This latest initiative is known as the New Commerce Experience (NCE). The goal of these changes is to provide more flexibility with monthly or annual terms to procure software subscriptions to meet the needs of today's changing business.
The new long-term contract with this model will bring price predictability and lock-in for yearly pricing. Monthly pricing will soon be offered as premium pricing.
Microsoft 365 Pricing Increase
This is timed with Microsoft 365 price increases that began in March 2022 and comes into effect on your renewal date. An additional price increase was implemented in September 2023 and comes into effect on your renewal date.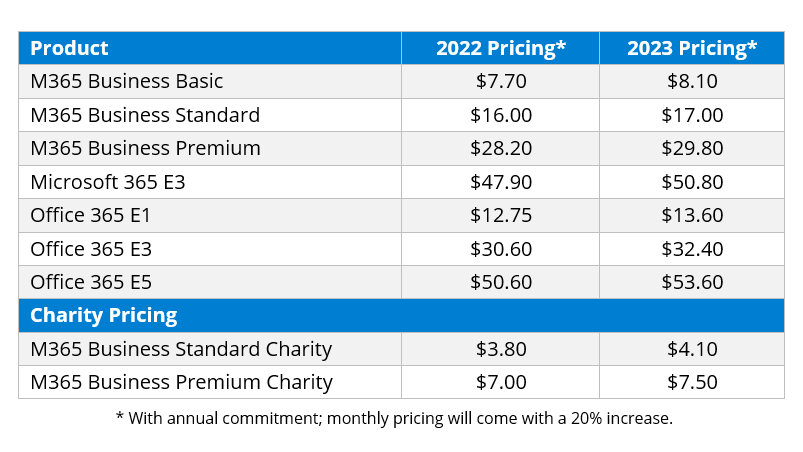 The key Microsoft NCE changes are:
Prices for month-to-month subscriptions will soon increase by 20%.
Seat reduction policy change. Previously, clients could reduce subscriptions at any time; with NCE, organizations can only increase the current seat number.
Purchasing Options to Consider and Why:
Monthly commitment, paid monthly: You can add or remove licenses monthly. The monthly option will cost 20% more than the current pricing. This option will remain relevant for businesses with a fluctuating workforce or those who want to have a lower commitment. Many organizations may choose to mix and match annual with a monthly commitment.
Yearly (pricing above): This annual option is new and will require an annual commitment of quantity that can only be increased (not decreased). New licenses will be added with a prorated annual fee to match the term. You are locked into this agreement and can only cancel on your renewal date. Upgrading within the suite is possible, for instance, moving from Business Standard to Premium or E3 to E5. You have 2 options with the yearly plan:

Yearly commitment, paid monthly: Most of our clients are on this plan.
Yearly commitment, paid once a year.
Can I Change My Plan? When is My Renewal Date?
Most of our clients are on a monthly payment plan with an annual commitment. You are automatically transitioned to the new plan on the renewal date of your subscription. Changes must be submitted more than 30 days before your renewal date. If you would like to make changes, or if you are uncertain when your renewal date is, please contact our office at info@peaceworks.ca.